The Caravan HACKED show was amazing, thought provoking, and beautiful! It was my first Caravan experience, but I will never forget it!
Amy Olenzek, Oswego NY
Great show! Thanks for visiting our town. We had a nice evening watching your show. Hope you come back again and we can bring our kids.
Thomas Russo II, Coxsackie NY

I had my breath taken away by the sight of the beautiful Amara Zee, built by incredible people who continue to live according to their dreams and convictions. They bring a mind-blowing and refreshing worldview and a way to see freedom in a whole new light. The performers are passionate and dedicated. The harmonies are tight & haunting. The visual elements are stunning & magical. and the "HACKED" story left me with a true feeling of empathy – I was touched.
Gitanjali Jain, Performing Artist, Montreal

The Caravan show "HACKED" is a great show! It is packed full of energy. A unique experience of talent and spectacle with deep issues that are pertinent today!
Edith Mastry, Oswego NY
HACKED is a great show that is artistically world class with a socially relevant message that most of the world's population suffers austerity and wars! Thank you Caravan!
Craig Berggold, Media Artist, Teaching Fellow, Queens University
The Caravan has done the crazy impossible thing again. I enjoyed the humour & vastness of the story and beautiful design of the lighting & video. Caravan is always a great experience!
Rosa Stella, Director, Center for Indigenous Theatre, Toronto
Unfortunately that ends the reviews for 2015 as the tour itself was cut short due to health issues suffered by our Captain!
HACKED exists on a plane of imagination with the likes of Laurie Anderson, Steve Reich, Brian Eno and Phillip Glass only on a much larger scale. It's an opera, a concert piece, and a major performance art delivered by a beautiful talented ensemble. It made me want to run away with the circus!
Reg Flowers, Artistic Director, Falconworks Artists Group, Brooklyn NY, Sept 29, 2014
What a great treat to have the Caravan come to Brooklyn. You created a destination back to the waterfront that was once‐bustling and now almost‐forgotten. You should be very proud to have brought a community closer together in a show both unique and entertaining.
David Sharps, The Waterfront Museum, Red Hook, NYC, Sept 30, 2104
I just saw your last show in Brooklyn last night. AMAZING!
Drew, Brooklyn, Sept 28, 2014
I lived in NYC and was deeply embedded in the underground art and music scene there for 15 years and I have to say, your show is one of the best things I've ever seen anywhere. Seriously incredible on every level!
Sam Sebren, Radio WGXC, Aug 12, Hudson NY
Great show ‐ must see! The performers put their all ‐ an art form. The message suits the crisis the area and Brooklyn is experiencing, with big business moving in, peoples need to fight back or become their slaves. Leaves a lasting impression. Must see!
Amazed from Brooklyn, The Brooklyn Paper, Sept 20, 2014
STUNNING and impressive show!
Suzan from Brooklyn, The Brooklyn Paper, Sept 21, 2014
What a show, nothing like it! But your going to have to think, so be prepared to use your brain.
Raymond from Brooklyn, The Brooklyn Paper, Sept. 20, 2014
What a marvelous show this is with lovely singing segments, superb aerial dancers that put you on the edge of your seat, and the massive Grain Elevator looming like a shrine over you. WOW!
Rita from Brooklyn Heights, The Brooklyn Paper, Sept. 20, 2014
I really enjoyed your show at Ossining last night. Very impressive. I enjoyed the Hackers and the Big Business analogies. Excellent performance and I look forward to seeing you perform again.
Cleech, Ossining NY, August 4, 2014
The Caravan Company delivers productions of experimental opera that might be described as Cirque du Soleil meets Occupy Wall Street. Shows feature outlandish props, circus acrobatics and aerialists dangling from the ship's rigging. The opera themes are critical of the rich, governments & global corporations. Its heroes are hackers promoting the equal distribution of wealth, who are persecuted by paranoid and over‐controlling authorities.
Corey Kilgannon, NY Times, Aug 5, 2014
"Hacked" is a howl at futuristic dystopian society where rebel hacker pirates have robbed a greedy worldwide corporation. Starting the show, the rebels zip line up to the rigging after hacking all the gold reserves from the "Mammon Corp". The multi media spectacle is replete with dramatic lighting, spooky music, provocative sung dialog and huge evil looking puppet heads over looking the action as the cast swings through the rigging like the Flying Walendas.
John Mike Vargo, Boating on the Hudson, October 2014
The Caravan show is this amazing experimental rock opera, with giant puppetry, aerialists working on silk, and lots of riggings and music. The cast is physically beautiful and compelling, talented & engaging. Gorgeous lights and music. We were blown away by the spectacle. All of us were spell bound. Caravan Stage Company is a massive operation, a game changer for downtown cultural life. Go see the show.
Metro JAX, June 17, 2014
I'm so grateful that my family & I had the opportunity to experience this excellent performance! So many of us are driven by this chaotic society to become a slave to the dollar. Thank you all for such passion in acting out what is in the minds of so many others! Keep doing what you are doing! I can't wait to see you all back in Jacksonville. BRAVO!
Stan Bellarvie, June 19, 2014, Jacksonville FL
Attended Saturday's show in Athens NY. Bravo to say the least! Great Performance!
Al Phakiko, Athens NY, September 1, 2014
In Hegel's Lectures on the Philosophy of History (1837), he states, 'We may affirm absolutely that nothing great in the World has been accomplished without passion.' It is BBC's passion that drives us to provide the highest levels of performance. Passion is the reason that performers, like the ones in the Caravan Stage Company, are inspired to examine our world through theater, music, poetry and visual art. We are excited to see the Amara Zee move with BBC Chartering and we are pleased that we can help bring the Caravan Stage Company's shows to people around the World.
Svend Andersen, BBC Chartering's CEO
Just being around the Caravan inspires a person to break the boundaries…
Jeane Manning, Changing Power, 06/2011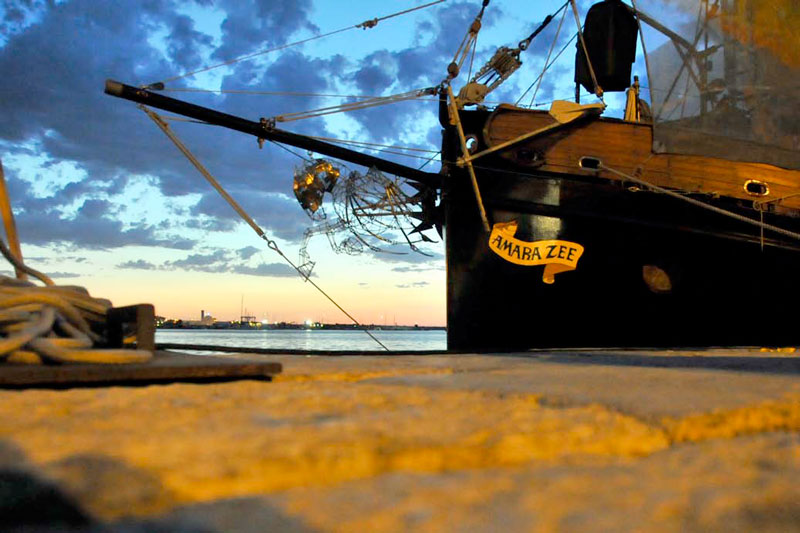 Your show in Jacksonville was very thought provoking. I enjoyed it immensely!
Irv Thomas, Jacksonville, June 23, 2014
AMARA ZEE…the Heart of the Sea Goddess
The Amara Zee is straining at her tether
Creaking and nodding, she waits for better weather
Sails are furled, lines are taut
She sniffs the blowing wind and sighs with all she's got
Dreaming of the day when she'll be running with the tide
Loosed from moors and anchors with horizons on every side
She cries, Sail with me, we'll ride the waves together
Sail with me, we'll kiss the stars forever
Sail with me to where you've never been before
Sail with me along some golden shore
Sail with me, the ocean's deep and wide
Let me take you over to the other side
Alan Bates & Sue Kyle, (Tour 1975 to 1979 & 1984 to 1986), Salmon Arm BC, July 20, 2014